As an event planner, you know that a successful event requires meticulous planning and coordination. That is why working with a destination management company (DMC) is often the best choice, especially for events held outside of your home city.

As we mentioned in our previous blog, a DMC acts as a local partner, thanks to their local knowledge and expertise, ensuring everything runs smoothly, from transportation and accommodations to activities and entertainment.
However, not all DMCs are created equal. That is why asking the right questions before selecting a Destination Management Company for your event is essential.
So, whether you are planning a corporate retreat, a meeting, or any other event, you will find our event planners guide helpful. Read on to discover the five questions you should ask your DMC.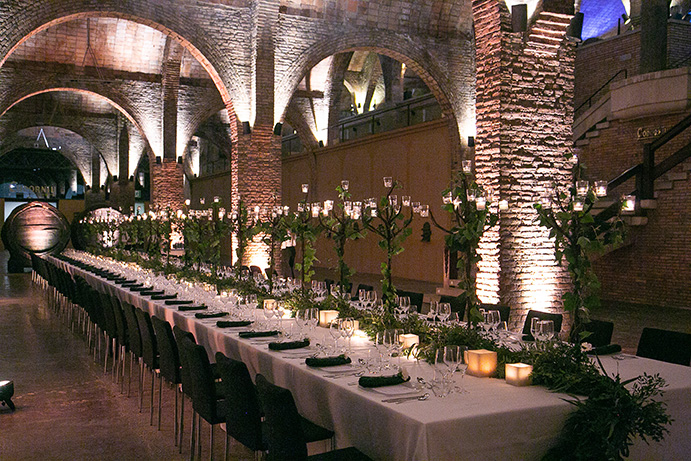 1. Event Planning – Which services do you offer?
One of the first questions you should ask a DMC is about the services they offer. It is important to clearly understand their range of services, as some DMCs specialize in a particular service, such as transportation and accommodation. In contrast, others are able to take care of everything, from venue selection to entertainment.
Therefore, you want to make sure they can handle everything your event requires, from start to finish, and that they can provide the appropriate level of customization to fit your event's needs.
2. Event Services – What is included in your fee?
It is essential to understand the fee structure of the DMC and what services are included in their fee. For example, will they provide a project manager on-site throughout the event, or will they only be present during the planning phase?
Will they handle vendor payments and negotiations? Will the DMC provide on-site staffing, such as tour leaders, or will you need to hire additional staff?
You want to ensure you understand the full scope of what you are paying for, so there are no surprises later. Additionally, these details will help you accurately compare the fees of different DMCs and ensure you are getting the best value for your money.
3. Event Budget - How do you manage the event budget?
A budget is a crucial component of any event. You want to make sure that your DMC has a system in place for managing the budget and staying within it.
Ask about their process for tracking expenses, handling vendor payments, and ensuring the event stays within budget. A transparent and comprehensive budget management process will help you avoid unexpected costs and ensure the event runs smoothly.
4. Event Management – Who will work on the event?
Knowing who will work on your event and who your main point of contact will be is essential for effective communication and coordination.
You want to make sure that you have a dedicated team working on your event and that you have a clear line of communication with them. You may also want to ask about the experience and qualifications of the team working on your event. Ideally, they should have a mix of local knowledge and event planning experience.
It is also essential to have a dedicated point of contact throughout the event who can address any issues that may arise. Ensure that the DMC provides you with the contact details of this person and that they are available to you at all times during the event.
You should also look at scheduling regular check-ins with your point of contact throughout the planning process. These calls can help ensure everyone is on the same page and that any issues or concerns are promptly addressed, while also reviewing progress, updating timelines, and making any necessary adjustments.
The frequency of the calls or meetings will depend on the complexity and scale of the event. You may want to schedule weekly calls for larger events and conferences to ensure everything is on track. For smaller corporate events, monthly calls may be sufficient.
In any case, setting a regular schedule for check-ins with your DMC's point of contact can help ensure a successful event.
5. Problem-solving: What about risk assessment?
Even with the most careful planning, unforeseen issues can arise during an event. Therefore, it is important to know that your DMC has a contingency plan in place in case of any unexpected events.
Ask about their risk assessment process and their plans for handling any issues that may arise. A reliable DMC will have a thorough and detailed contingency plan that assesses potential risks and develops strategies to mitigate or eliminate them. This plan should be regularly updated and communicated to all stakeholders involved in the event. Your DMC should have the experience and knowledge to identify potential risks and provide solutions to minimize their impact on the event.
In addition to a comprehensive contingency plan, your DMC should also have access to local resources to handle any emergency during the event. This could include access to medical professionals, local authorities, or transportation services.
So why should you use a Destination Management Company?
If you are planning an event in a new city or destination, using a DMC can be incredibly beneficial. DMCs have the local knowledge and expertise to manage all aspects of destination management. But why should you use a DMC, like TERRAEVENTS, for example, instead of managing the event yourself?
Firstly, DMCs have an extensive network of local contacts and resources that are essential for planning a successful event. They know the best venues, suppliers, and service providers and can leverage their relationships to secure better rates and more favorable terms. They also have in-depth knowledge of local regulations, customs, and culture, which can help you navigate potential challenges or issues.
Secondly, DMCs can save you time and money. Planning an event can be a time-consuming and complicated process, especially when managing it from a distance. A DMC can handle all aspects of destination management, from initial planning and logistics to on-site coordination and troubleshooting, allowing you to focus on other critical elements of your event. By leveraging their local knowledge and resources, DMCs can also help you save money by negotiating better rates and terms with suppliers and service providers.
Lastly, DMCs can provide a higher level of customization and personalization to your event. They can tailor the event to your specific needs, preferences, and budget, creating a unique and memorable experience for your attendees. They can also provide expert guidance and advice throughout the planning process, helping you make informed decisions that align with your event goals and objectives.
Summary
Choosing the right DMC for your event can make all the difference in its success.
Asking the right questions will help you ensure that you select a DMC that can handle all aspects of destination management, has a transparent and comprehensive budget management process, and has a contingency plan in place to address any potential issues.
So, start planning your next event with the expert TERRAEVENTS DMC professionals in one of our four amazing destinations, and create a memorable experience for your guests.