Florence Caffort, a Senior Project Manager in our TERRAEVENTS Spain team, tells you about her favourite Spanish city.
Seville represents my first true contact with Spain and as such will always hold an incredibly special place in my heart.
Andalucia is the representation of the "romantic Spain" and Seville is a colourful concentrate of its history, traditions, gastronomy and colour. This bijou city with its phenomenal food, surprising Mudjar, Gothic and Renaissance architecture, and alluringly sensual flamenco rhythms was my first true contact with Spain, charming and seducing me and holding forever a special place in my heart.
I can remember as if it were yesterday my first experience of this captivating city, the sensation of travelling back in time as I wandered the tiny streets dotted with orange tree filled plazas, the vibrant gypsy quarter of Triana, the magnificent Gothic cathedral, and my all time favourite, the 14th century Real Alcazar Palace with its exquisite ceramic tilework and celestial gold ceilings. I spent hours lingering in the ornate gardens gazing at my reflection in the waters of the pools, keeping company with strolling peacocks until security ushered me out so they could close the place! (No wonder Game of Thrones choose the Real Alcazares Palace to film the "Water Gardens of Dorne")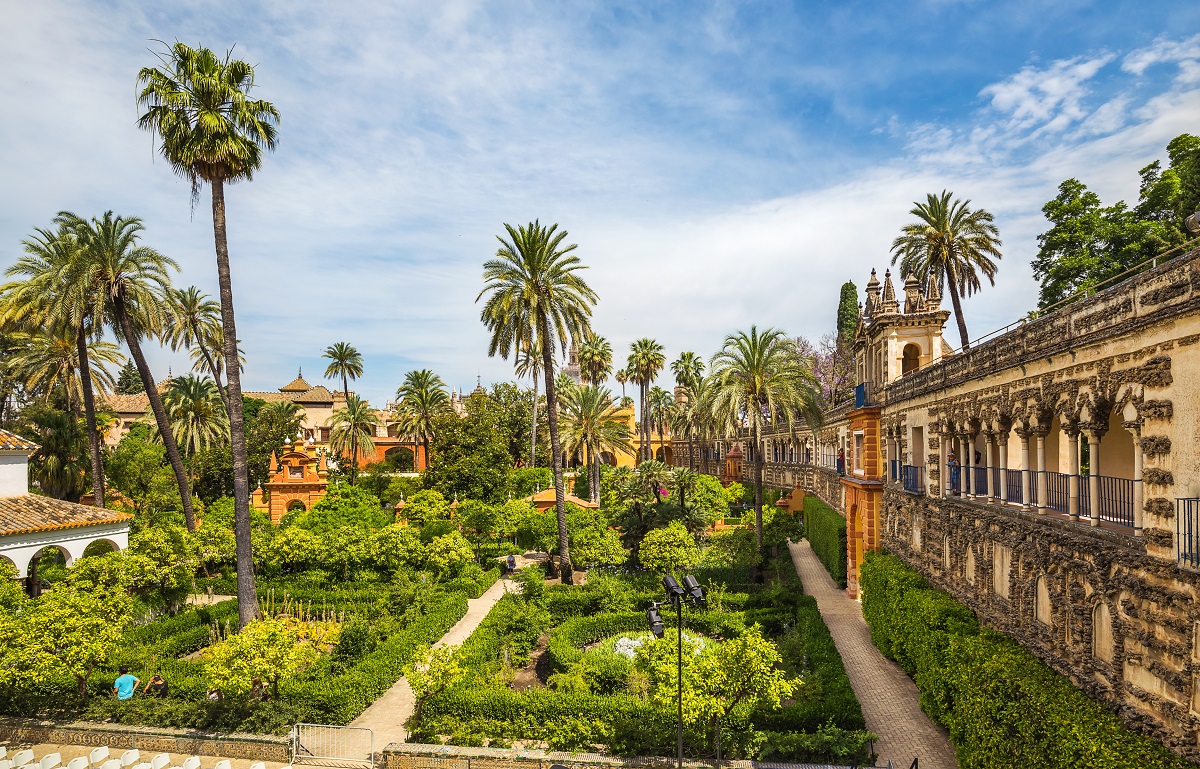 I recall discovering Plaza España with the beautiful (and, yes, again colourful) tiled decorated alcoves and Maria Luisa Park, criss-crossed throughout the day by elegant horse drawn carriages.
Because Seville is such a "human sized" city, you can go everywhere by foot, although it enjoys a well-run public bus and tram service to take you to any part of the city if you're feeling particularly weary.
For me, the spring months of May and June are the best time to visit Seville , after Semana Santa, the Holy week which precedes Easter, and before the fierce heat of the summer months of July and August. Late spring is when temperatures are at their best, perfect for enjoying time spent strolling the narrow flower filled streets of historical Santa Cruz and Triana neighbourhoods, be gifted with a glimpse of hidden colourful houses patios at every turn, or catching a glimpse of a flamenco dressed lady to appear as if by magic!
And lets not forget about the gastronomy; in Seville tapas is a culture, fundamental to the heart and soul of the city. So enjoying tapas on an al fresco terraces, accompanied by a refreshing glass of beer or vermouth, is something you won't want to miss.
Yes, I think the motto of the city engraved on every lamp-post and manhole cover was written just for me Sevilla no me ha dejado, Seville, she has not deserted me.