Time for our final Portuguese stop. This time our super Country Director, Fatima Neves, and Senior Project Manager, Jessica Duarte, have decided to take us to the Algarve, Portugal's southernmost region, known for its golden Atlantic beaches, picturesque towns, and mouthwatering seafood.
With its warm and dry summers and very mild winters, the Algarve region is a great event and incentive travel destination all year round.
So, what are we waiting for? Let's follow Fatima and Jessica and discover the wonders of this beautiful territory.
Discover the sunniest destination on the planet
Despite being a relatively small region, the Algarve is home to at least 85 beaches with Blue Flag status, meaning that you are all but guaranteed to find a clean and safe beach. Plus, it is one of the sunniest destinations on the planet!
And not only this...Portugal is well-known for its amazing cuisine, but what you may not know is that much of its Michelin Star talent is based right in the Algarve region, boasting at least five Michelin Star eateries!
We told you that this was going to be an amazing trip!
Ever heard of the Algar de Benagil, one of Europe's most famous caves?
Benagil is a stunning cave with a natural skylight and a small stretch of sand, which can be entered only via boats or stand-up paddleboards.
So, jump aboard your kayak with Fatima and Jessica, and let's discover the beauty of nature. And why not take a dip in the blue sea waters?
After a day at sea, we deserve to relax in one of our girls' favourite restaurants: 2 Passos, located in the heart of the Ria Formosa Natural Park. So, let's taste the traditional Bacalhau with a glass of fine Portuguese wine and enjoy the spectacular sea view.
Trotting along the beach
For those who prefer to stay on the mainland, we have the perfect activity: choose your horse and trot along the beach of Carrapateira, famous among surfers. Explore this lovely area by horseback, on a private tour, and admire the uncontaminated beauty of this coastal village.
And in the evening, chill out at the Symbiosis Pub & Bar and enjoy perfectly cooked tapas, quesadillas, and nacho chips.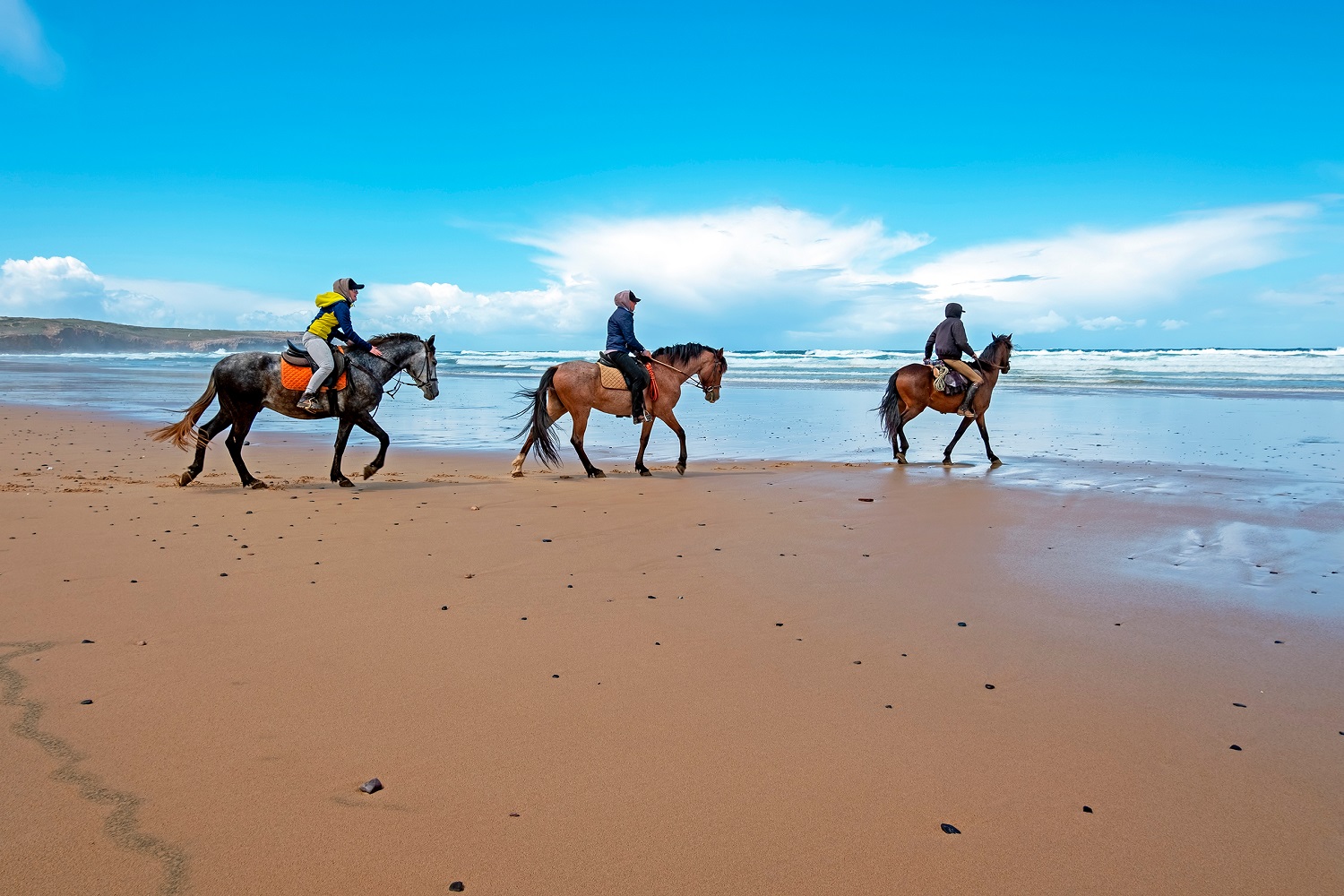 A dive into the natural world
For our final day in the Algarve, Fatima and Jessica have planned an adventurous segway tour in the Portuguese birdwatchers' paradise: Ria Formosa Natural Park, located only 20 minutes outside of Faro.
This incredible nature reserve is a maze of islands, canals, marshes, and barrier islands, stretching 60 km along the Algarve coast and attracting varied fauna, including numerous species of birds.
And for dinner, a classic restaurant in the Quinta do Lago Beach: Gigi's. Located on the sand dunes, this wooden house-restaurant boasts idyllic views of the National Park and its lagoon. So, sit back, relax and enjoy.