If you are looking to organise a truly standout incentive trip, then head to Lisbon and meet our country director, Fatima Neves.
In this issue, Fatima, who knows Lisbon inside out, shares with us some of her favourite hidden gems. From an exploration of charming streets and alleyways to an exhilarating helicopter flight across the city, Fatima always ensures our client's events and incentive trips are unique to them. And of course, no visit to Lisbon would be complete without sampling some of its delicious food and drink in one of the Capital's most trendy sky bars and restaurants.
So, jump aboard and discover the uniqueness of the 'city of Light'!
Discover Lisbon through its traditional arts and crafts
Did you know that Lisbon was destroyed during the so-called 'Great Lisbon Earthquake' in 1755? A terrible earthquake caused subsequent fires and tsunamis which levelled the city. What we see today is a product of total reconstruction and recovery after this catastrophic event.
Our first stop is the Ricardo Do Espirito Santo Silva Foundation, created in 1953 and today home to 18 workshops of traditional Portuguese arts and crafts: from leather engraving to paper marbling and tile painting. The perfect setting for a team-building activity.
Now you have had your creative juices flowing, you will definitely deserve a taste of something nice, we suggest Alheira (Portuguese sausage), with a glass of wine, in one of Lisbon's most famous terraces, Darwin's Cafe'; a charming and modern restaurant with a peaceful atmosphere set right on the Belem waterfront.
Sailing in the City of Light
After a morning of site-seeing and arts and crafts, it is now time for something a little more adventurous. How about a dynamic sailing experience on the river Tagus?
Learn how to manoeuvre your clipper through the glistening waters while admiring the beauty of the 'city of Light' from a unique perspective.
Theres no better way to end the day than with a fantastic meal, Fatima recommends Restaurant Via Graca...the ideal place to feed your senses. For more than 30 years, this vibrant and stylish venue, with a beautiful panoramic view of the Castelo de Sao Jorge and its 14,000-reference wine cellar, has been one of Lisbon's most glamorous special event restaurants.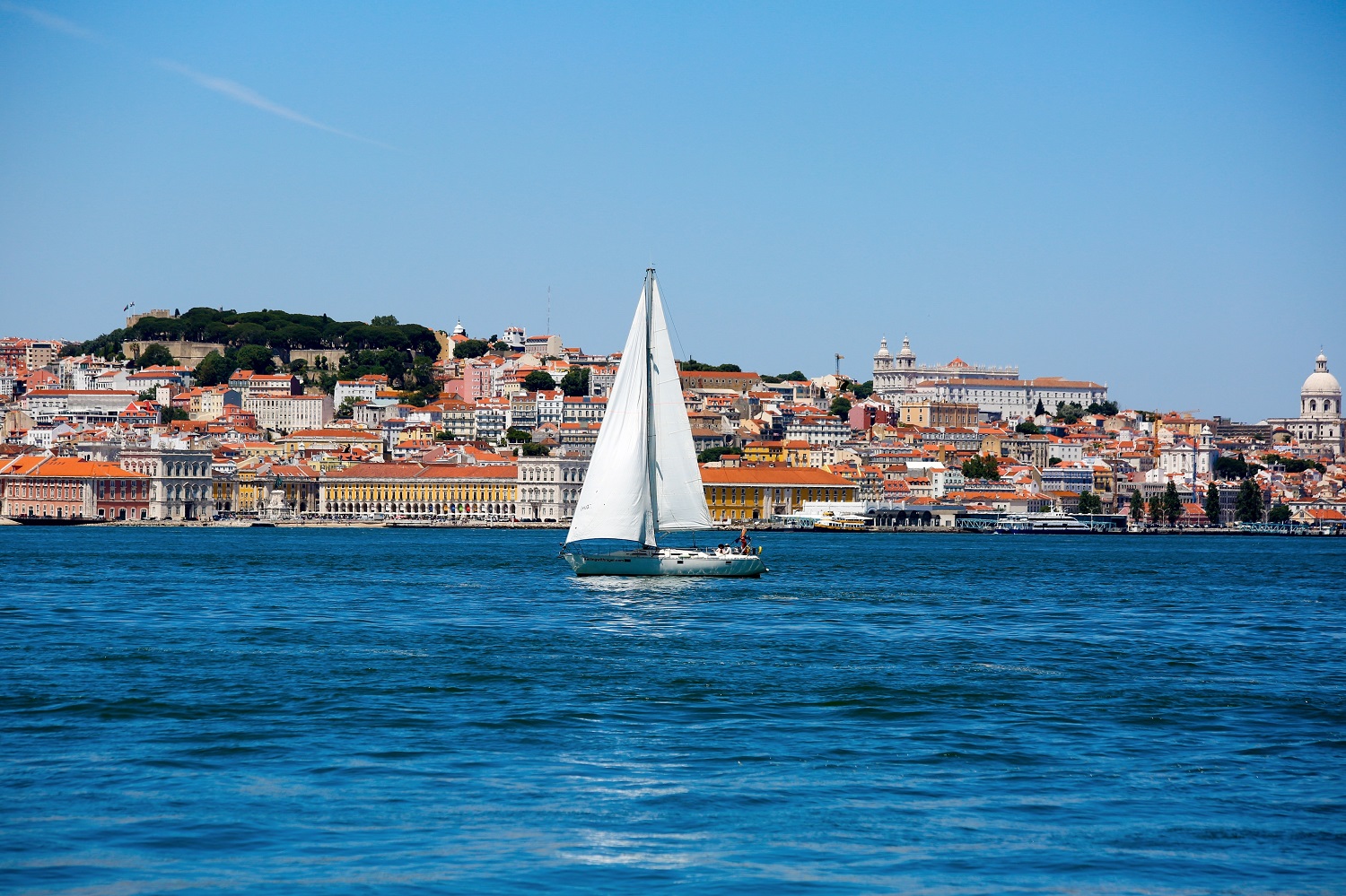 Take to the skies of Lisbon
For our final day in Lisbon, Fatima has decided to take us on a helicopter ride!
So, fasten your seatbelts and get ready to take off. Take the opportunity to admire how the Tagus River acts like a mirror reflecting the sunlight over the city...the City of Lights.
Let's ease ourselves back to the ground, by relaxing and enjoying a nice cocktail, maybe a Ginginha Royal, in one of Lisbon's quirkiest rooftop bars: The Insolito. This eccentric venue, on top of a 19th-century mansion, filled with vintage art pieces, is the perfect spot for a lively evening, made of creative cocktails and a unique reinterpretation of Portuguese cuisine.