Our journey continues through Italy with our wonderful Country Director, Giulia Brochetto. And who better to guide us than Giulia, a true events lover, on a trip to one of the most romantic and fascinating cities in the entire world: Venice, the Queen of the Adriatic sea. A magical city and a favourite among artists and poets.
Venice is a truly unique event destination; with its meandering canals, bridges, historical palaces, and extraordinary culture, Venice has what it takes to create an unforgettable event.
Venice, City of Canals
This small yet wonderful city, founded in the middle of a lagoon, has been one of the most powerful 'independent empires' for several centuries, giving birth to a culture and lifestyle that is incredibly unique.
Made of 118 islands and separated by more than a hundred canals, it is clear that cars and buses aren't suitable in Venice; only boats, water taxis, and gondolas - every day, 400 gondolas float through the city's canals, transporting visitors back to a different era.
Giulia loves wandering through the narrow 'calli' (streets) of Venice while admiring the elegant facades of the typical Venetian palaces. To experience the uniqueness of this beautiful city, Giulia has decided to take us to the Cannareggio district, an area known for its artisans and craftsmanship, home to Venice's unique furnace, Fondaria Orsoni, that still uses the same techniques since 1888 to produce 24-carat gold leaf mosaics.
After a day filled with art and culture, what better than a real Italian aperitivo...never miss 'aperitivo time' when in Venice! So, stop at Terrazza Aperol and raise a glass of Aperol Spritz while savouring the authentic Venetian cicchetti!
Cin Cin!
Don't mess with the rabbits
Looking for a nice place where to relax, practice yoga, jog, or cycle? Sounds like 'mission impossible' when in Venice, but Giulia knows exactly where to take you: the little-known Certosa island provides a place of tranquillity where you can soak up the timeless atmosphere and the uncontaminated nature of the Venetian lagoon. But careful! The island is well protected by its guardians: the Certosa rabbits.
Before going back to the main island, stop at the summer restaurant Hostaria in Certosa and enjoy the sunset on the lagoon while sipping a cocktail, accompanied by the fresh and authentic dishes of its renowned cuisine.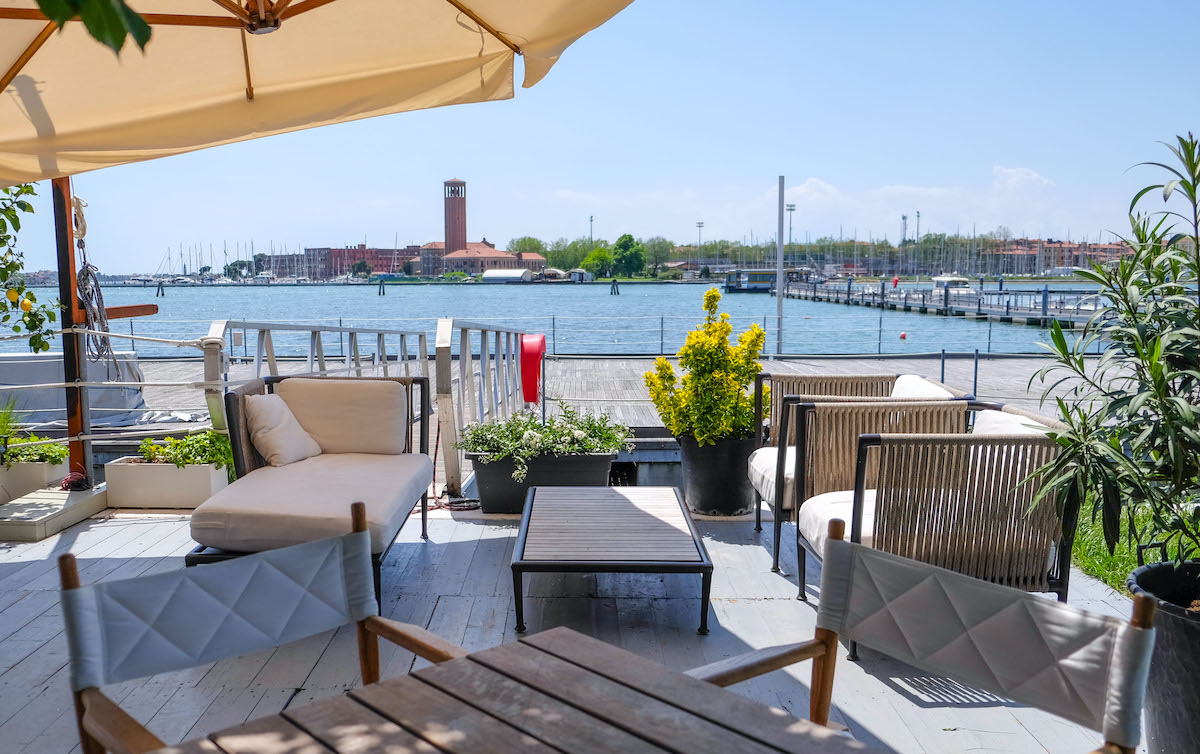 A fairytale setting...
For our final day in Venice, Giulia has planned something extraordinary: a jaw-dropping gala dinner in a spectacular setting, the Granaries of the Venetian Republic, on the Giudecca island. This fifteenth-century building has been immaculately restored to its former glory to offer splendid and flexible event spaces. Enjoy the view of St Mark's Square from the Fondamenta Terrace, where Giulia and her team have created a relaxing alfresco lounge area where you can sip your cocktail and indulge in some lively chatter. And for dinner, take a seat in the majestic Longhi Ballroom, where spectacular chandeliers light up the hammer-beam roof, and be mesmerised by the incredible performance of the acrobats and actors.
Enjoy!