For the last twenty years I've lived in one of the world's most beautiful cities – Florence. Surprisingly compact, with hidden treasures around just about every corner, it's pedestrian perfection & whilst known as the cradle of the Renaissance, the city has marched forward into the 21st century with a fervent flourish of revamped museums and gourmet gamechangers capturing everything that is memorable about Italian food and a lot more besides.
Kick-start the day with a morning run through the Cascine Park, a 6km loop in the largest green area of the city, tree-lined for shade and a great place to people and dog watch as you hit your pace. A special note – Florence is a city of fashion so be sure to bring your best running clothes….
Early morning exertions deserve just rewards so join with the Florentines for their morning coffee ritual & I guarantee you'll never feel the same about Starbucks!. In Florence everyone has their favorite barista who matches faces to a preference – so whatever suits, , from a simple caffe (an espresso, short and strong) to a macchiato (strong with a little frothy milk), an americano, disdained by the locals but good if you like your coffee long and diluted, and in the summer a shakerato, two shots of espresso sweetened with sugar and shaken with ice to form a rich froth. And remember, Italians NEVER drink cappuccino after 11am!
Favorite coffeeshops run from the historical Caffè Gilli and Caffè Paszkowski in Piazza della Repubblica to the more hipster, Ditta Artigianale, in Via dei Neri and Via dello Sprone.

Caffè Grilli
A rumbly in your tumbly - make your way to the quarter of San Lorenzo, just opposite the main railway station Santa Maria Novella - a labyrinth of streets filled with market stalls and the magnificent Mercato Centrale (the Central Market) where all self-respecting foodies flock to. The ground floor is frequented by the locals for their daily shop of the best in local produce – meat, fish, fruit & vegetables, and the Florentine favorite "trippa", heaven or hell depending on your take on eating the lining of a ruminant (cow). Head to the top floor which has become Florence's premier food pavilion, filled with stalls selling prime items of Tuscan foodstuffs and much which is makes this region's cuisine so memorable – a mix of traditional and restyled versions of the Tuscany's greatest offerings including such delights as truffle risotto.
Whilst in the area, pop your nose into the nearby garage in Via Nazionale, 21, to see the retro wall frescoes of Italian classic cars, before heading to Via de' Ginori 8R, to visit La Ménagère – a concept store with a magnificent florist, shabby chic homeware and a restaurant serving Mediterranean delights.
If you're in the mood for shopping and consider yourself a fashionista, there's nowhere better than Luisa Via Roma – the actual shop has been in the same location (Via Roma 3) since1929 & now boasts an online fashion site with no less than 5 million visitors per month from all over the world. It's an interaction of bold fashion, resplendently cool interior design & a rooftop terrace to sit back, relax with the beautiful people & enjoy a hi-energy lunch. Forgo dessert to enjoy the best gelato you'll ever taste – Vivoli, in Via Dell'Isola delle Stinche, where they've been making ice-cream since 1929.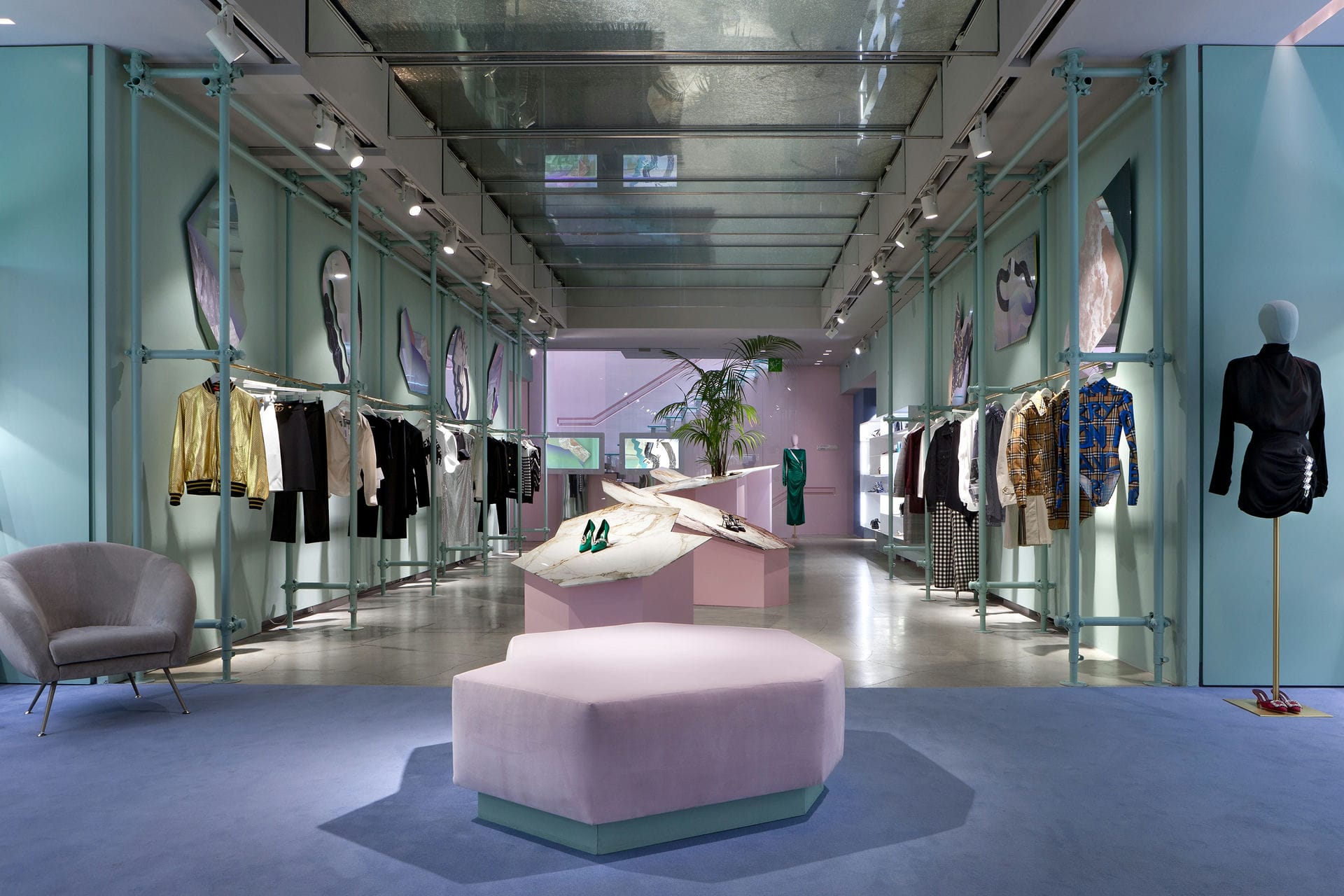 Luisa Via Roma
Florence can represent a cultural overload so whilst most tourists will make a bee-line to the Academy to gaze at the masculine magnificence of Michelangelo's David or studiously work their way through the Medici's priceless collection of art in the Uffizi gallery, my personal recommendation would be to make your way to the latest revisitation of one of the cities most important offerings – il Museo del Duomo – a truly spectacular contemporary design hosting the largest concentration of Florentine monumental sculpture in the world, within a totally unique setting. The museum's main hall evokes the city's square, representing the "Paradise" of Florence, with a reconstruction of the 16th century façade of the Cathedral Santa Maria del Fiore. Don't miss visiting the Sala Maddalena, to see Donatello's incredible statue of Mary Magdelene. Entirely sculpted in wood,this 15th century sculpture seems almost contemporary in its style and the haggard penitence stance of its subject never fails to take me aback.
Having satiated your cultural curiosities, a further sensorial delight awaits at Aquaflor, a Florentine maison de parfum. An ambience which is sheer nectar to all the senses; beautifully crafted crystal glass ampoules filled with magical essences; soft scented soaps and fragrant candles you will wish would burn forever! Aquaflor, Borgo Santa Croce 6.

Aquaflor Firenze

For the ladies no visit to Florence would be complete without stopping by Angela Caputi for statement jewellery at its best. Adorn yourself with these magnificent handmade baubles and no-one will doubt your Florentine style! Two shops – the flagship store and laboratory where these one-of-a-kind creations are made in Via Santo Spirito, and a smaller shop in Borgo Santissimi Apostoli.
After such an industrious day make your way to SeSto and treat yourself to a Negroni – the cocktail created in Florence, an intense mix of bitter Campari, red vermouth and gin. Sit back and enjoy one of the most spectacular views of this incredible city and the surrounding gently rolling hills, dotted with patrician villas and terraced gardens.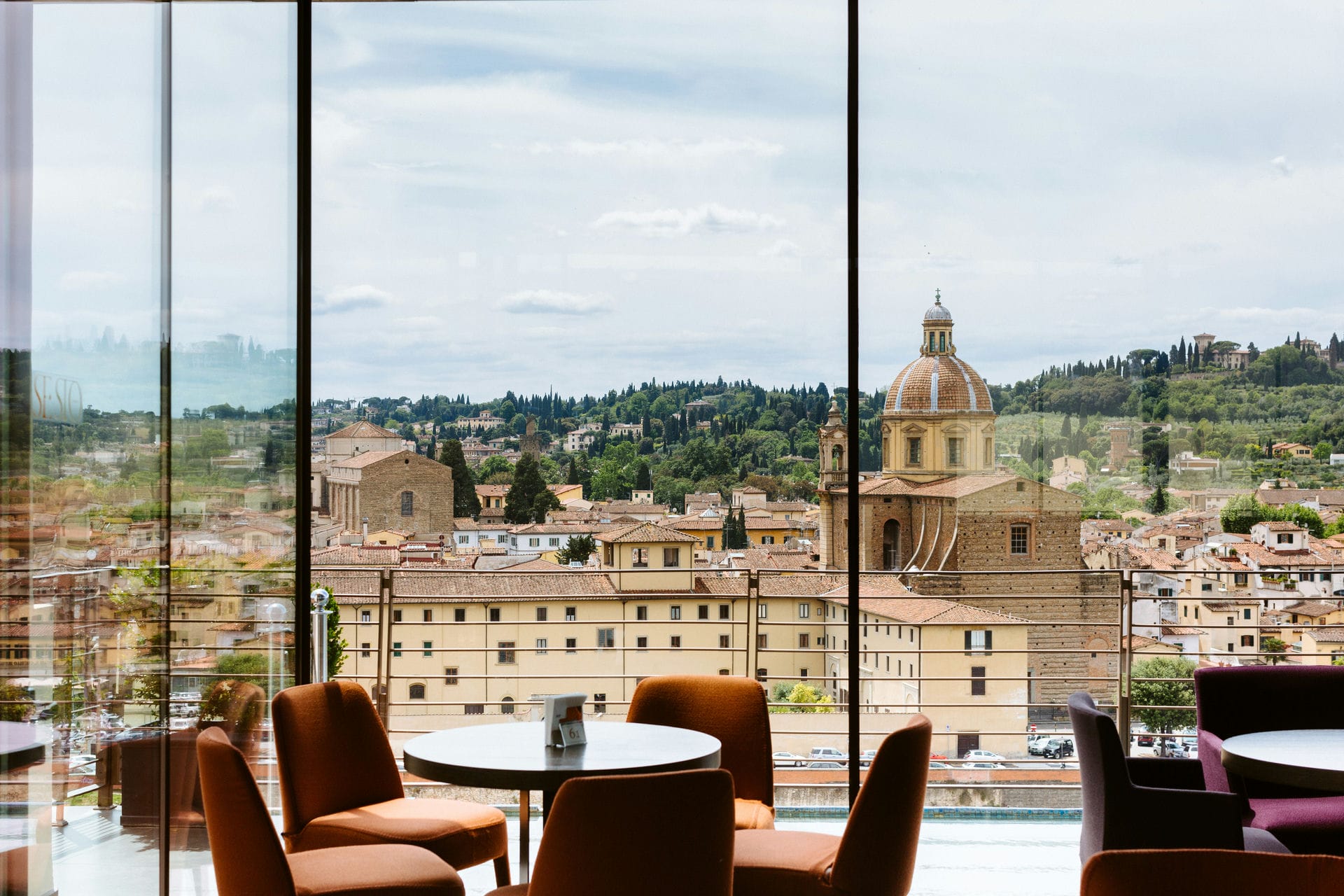 SeSto on Arno Restaurant – The Westin Excelsior, Florence
And so to end your day by crossing the river to the Oltrarno and the quarter of San Frediano, the city's more bohemian neighborhood for dinner which is filled with an ecletic collection of restaurants, striking a balance between traditional and modern, casual and formal. Try Neromo, (Borgo San Frediano, Rosso 23/25) – great pizzas and other dishes too.
Alternatively, if the city has become just a litte too much and you feel the need to get away from the masses and out into the hills, make your way to Fiesole and brace yourself for a steep climb on foot to the Reggia degli Etruschi, perched on the very top of the hill. A family favorite where the food is quite simply sublime, wine-list would satisfy even the most demanding of wine-connoisseurs and the service is just rather "specially" Florentine.
Enjoy!